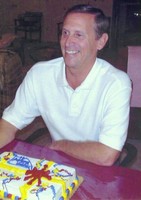 The following biography was submitted by Al's father:
Albert Stephen Borchik, III December 2, 1953 – January 27, 2004
Al was born at Ellsworth AFB, South Dakota on a snowy, cold winter's day! He would spend the next 50 years living with his family as a military dependant, on or near 25 military bases and as a military member with his wife and family, on or near 10 military bases.
His father was assigned to Holloman AFB in July, 1968 and he attended Alamogordo High School in his sophomore and junior years playing varsity Football, baseball and wrestling, receiving varsity letters in all 3 sports in his junior year. He was inducted into the National Honor Society in May, 1970. In 1971, he attended Autauga County High School in Prattville Alabama, receiving a varsity letter in football and was named to the 1971 Montgomery County All Star football team. He then attended Auburn University and became a member of the Auburn University freshman football team and also joined the Air Force ROTC program. He was nominated for and received a full ROTC scholarship and due to Southern Conference rules, could no longer participate in SEC football.
IN September, 1972 he married his high school sweetheart, Miss Patti Teel. In May, 1975, he graduated from Auburn University with a degree in Aviation Management and was commissioned a 2nd Lieutenant in the Air Force. During his senior year at Auburn, he qualified for Air Force Navigator training and in January 1976 was called to active duty, attending training at Mather AFB, California, graduating and receiving his wings in October, 1976. He was assigned to Castle AFB, California for training as a B-52 advanced Navigator. While at Castle AFB, his 1st child, Ami Marie, was born.
His next assignment took him and his family to Vandenberg AFB, California for training in Intercontinental Missile training followed by assignment to Ellsworth AFB (the place of his birth) as a Missile Launch Control Officer. Follow on assignments took him to Offutt AFB, Nebraska and Warner Robins AFB, Georgia where his son, Adam Michael was born. Maxwell AFB, Alabama was his next assignment where he attended the Air Force Command and Staff College and after graduation, stayed on as an instructor at the College. His 2nd daughter, Amanda was born there.
Prior to Operation Desert Storm he was transferred to MacDill AFB, Florida with the Special Operations Command as the Command Air Force Intelligence Officer. His duties included duty with the Army and aboard a Navy aircraft carrier as an Intelligence and Plans officer.His next assignment took him to Wright Patterson AFB, Ohio as the Director of Intelligence for the Air Material Command.
In January, 2001 he retired as a Lt Colonel, settling in Prattville, Alabama with his family. In 2002 he and his wife divorced and he moved to Florida where he was employed as a Condominium Association Manager in both Destin and Pensacola, Florida. On January 27, 2004 he passed away and on January 31, was buried with full military honors. He is survived by his former Wife, 3 Children and 6 Grand Children, his Mother & Father, 3 Brothers and a Sister and several Nieces and Nephews.