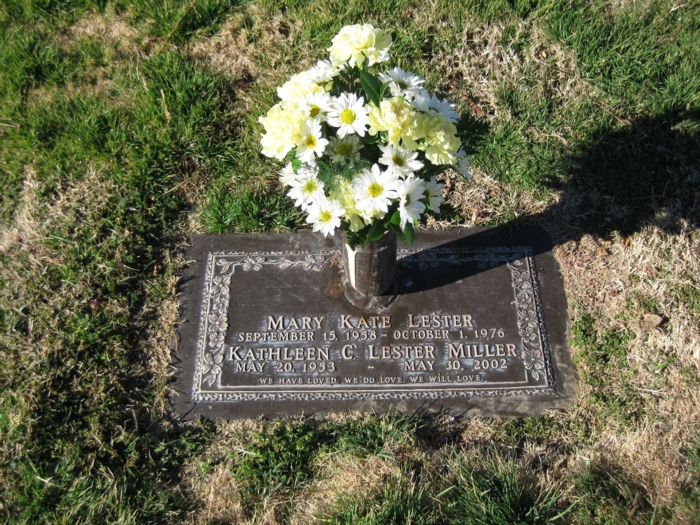 Kathleen C. (Lester) Miller was born May 20, 1953 and passed away on May 30, 2002.
The following was written by Kathy's brother, Mel Lester Jr - 2011
"Kathy died in the Spring of 2002 after her body rejected a bone marrow transplant. I was the donor and her death was crushing. Kathy and I were very close and obviously, I knew her quite well for all of her too brief 49 year life -- through our school days, her marriage, and two cancers. She was a cheerful giver, always sacrificing her own dreams to support those of her husband and daughter. When she knew the end was near, all her affairs were put in order. I never knew her to say an unkind word about anyone.
Circumstances permitting, I know Kathy would really have loved to attend her class reunion ."
Update 2021
Tucson Citizen (Tucson, Arizona) - 05 Jun 2002
MILLER, Kathleen Cecelia Lester, born May 20, 1953 in Washington DC passed into rest at UMC on May 30, 2002. She leaves her husband of 31 years Steven Miller and beloved daughter Tanya Nicole; her parents Dr. (Melvin) and Mrs. (Jeanne) Lester; three brothers, Melvin, Eric and George Lester of OR; Dorothy Miller, mother-in-law; Dane and Sherlyn, brother and sister-in-law; uncles Richard Jones, Allen Lester, Robert Lester; and aunt Barbara Greene; also, numerous nieces and nephews. She was predeceased by an infant son, sister Mary Kate, and father-in-law La Mar Miller. Employed by IBM as an ESS Product Planner, she moved to Arizona with her husband in July 1994. A memorial service will be held at Sabino Road Baptist Church, 2710 N. Sabino Canyon Rd., Tucson, 85715. The service will begin at 7:00 p.m., Thursday, June 6, 2002. In lieu of flowers the family requests memorials be made to Aplastic Anemia & MDS International Foundations, P.O. Box 613, Annapolis, MD 21404-0613. Arrangements by Bring's Broadway Chapel, 6910 E. Broadway.
Find-A-Grave.com - Kathy was cremated and her remains placed in an urn buried in the same plot as her younger sister, Mary, who proceeded her in death. Buried in Monte Vista Cemetery, Alamogordo, NM.